What a couple of great firsts.
Joan Butts introduced her new husband Martin Doran to assist at her May bridge holiday held for the first time at Byron at Byron, a five-star resort at Byron Bay (NSW).
Two excellent choices as Martin is a calm and experienced bridge player and the resort was aces on all counts. Great rooms (all with a deep and inviting bath), great rainforest walks, great food, friendly and efficient staff (my alpaca shawl was returned after I left it lying around somewhere), and as it happened, perfect weather.
Of course the bridge lessons were tricky for some, as it is wellnigh impossible to tailor a program to suit 60 players with varying degrees of experience.
But it was fun, and in a perfect setting to make new friendships and renew old.
Among the 60 players from as far and wide as Perth, Western Australia, was one of the most remarkable woman I've ever met. Valerie Curry, who at 84 (and a half) took up bridge last year. She pulled into the resort in her white, Mercedes (C250) sports coupe, her best gold sneakers and didn't miss a lesson, a game, a lunch or a dinner.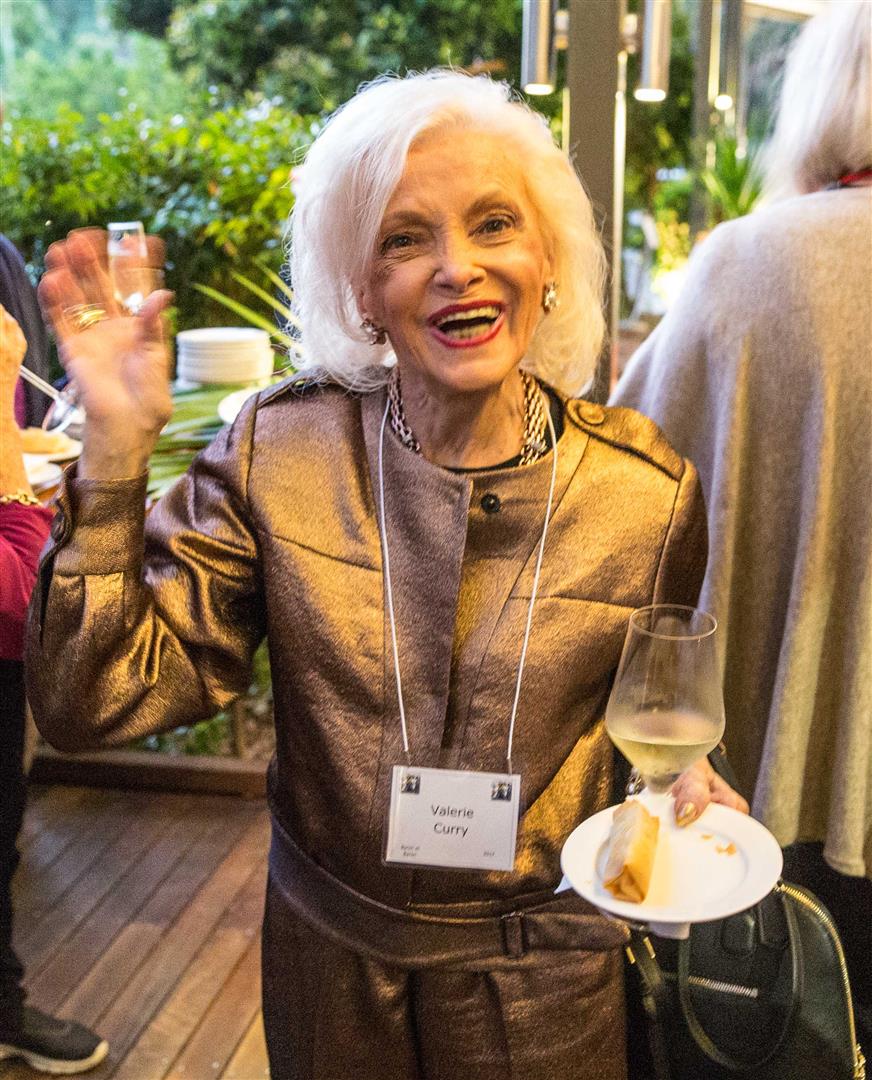 Valerie Currie
at the
Cocktail Party
More than a good player, Joan has always been a leading promoter of the game. We met nearly 30 years ago, when she arrived at the Fortitude Valley (Brisbane) office of Sun Newspapers, asking to see me - the then Place in the Sun daily columnist.
"I'm opening a new bridge club in Ascot and it will be different", she said.
I still remember that she pointed out that coffee would be served at the tables.
As I hadn't played bridge I did not know what would be different and so naturally, Joan had me at a beginners table and I was hooked. The tragic element of this story is that as a hard working journalist it soon became apparent this sport required more than a couple of spare hours a week. So I gave up the learning but, whenever possible, I wrote about Joan Butts and her devotion to bridge.
And so 30 years later, retired and a member of the Sunshine Coast Contract Bridge club, I was back at a Joan Butts' class. I don't remember if Joan said on that first day, 30 years ago, that bridge was a diabolic game, but she did point out it was a great way to make and nurture friendship. This was evident at her Byron at Byron forum with 60 people attending. They came from Perth, Melbourne, Sydney, Brisbane, Sunshine Coast, and all places in between.
And coffee was served at the tables.
Pauline Clayton